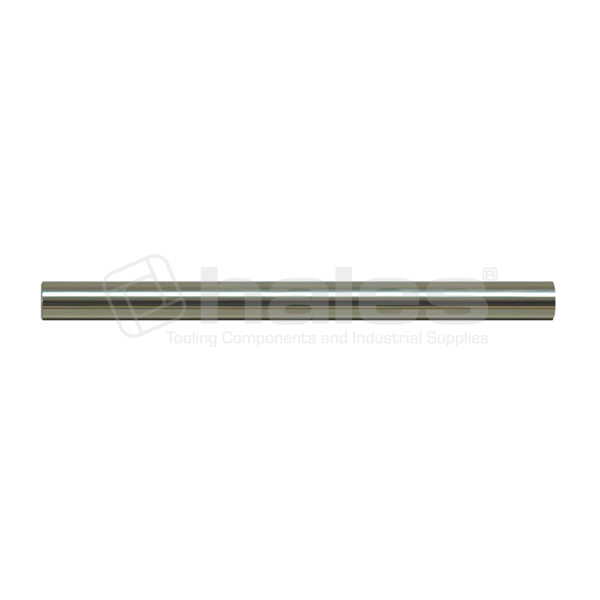 Heat Transfer Rods
Heat Transfer Rods are designed to heat or cool cones, slides and inserts.
- Conduct temperature over 10,000 times faster than copper.
- Operates best when 50% of the overall length is cooled using a water flow. +0.1 to +0.2mm should be up on the rod diameter for the correct fitment.
- Fitment hole should be drilled.
- Available in Metric and Imperial.
Get a Quote
| SKU | TYPE | L (LENGTH) | QTY |
| --- | --- | --- | --- |
| HTR-02050 | 2mm | 50 | |
| HTR-02055 | 2mm | 55 | |
| HTR-02060 | 2mm | 60 | |
| HTR-02065 | 2mm | 65 | |
| HTR-02070 | 2mm | 70 | |
| HTR-02075 | 2mm | 75 | |
| HTR-02080 | 2mm | 80 | |
| HTR-02085 | 2mm | 85 | |
| HTR-02090 | 2mm | 90 | |
| HTR-02095 | 2mm | 95 | |
| HTR-02100 | 2mm | 100 | |
| HTR-02105 | 2mm | 105 | |
| HTR-02110 | 2mm | 110 | |
| HTR-02115 | 2mm | 115 | |
| HTR-02120 | 2mm | 120 | |
| HTR-02125 | 2mm | 125 | |
| HTR-02135 | 2mm | 135 | |
| HTR-02145 | 2mm | 145 | |
| HTR-02155 | 2mm | 155 | |
| HTR-025050 | 2.5mm | 50 | |
| HTR-025075 | 2.5mm | 75 | |
| HTR-03050 | 3mm | 50 | |
| HTR-03055 | 3mm | 55 | |
| HTR-03060 | 3mm | 60 | |
| HTR-03065 | 3mm | 65 | |
| HTR-03070 | 3mm | 70 | |
| HTR-03075 | 3mm | 75 | |
| HTR-03080 | 3mm | 80 | |
| HTR-03085 | 3mm | 85 | |
| HTR-03090 | 3mm | 90 | |
| HTR-03095 | 3mm | 95 | |
| HTR-03100 | 3mm | 100 | |
| HTR-03105 | 3mm | 105 | |
| HTR-03110 | 3mm | 110 | |
| HTR-03115 | 3mm | 115 | |
| HTR-03120 | 3mm | 120 | |
| HTR-03125 | 3mm | 125 | |
| HTR-03135 | 3mm | 135 | |
| HTR-03145 | 3mm | 145 | |
| HTR-03155 | 3mm | 155 | |
| HTR-03165 | 3mm | 165 | |
| HTR-03175 | 3mm | 175 | |
| HTR-03185 | 3mm | 185 | |
| HTR-03205 | 3mm | 205 | |
| HTR-04050 | 4mm | 50 | |
| HTR-04055 | 4mm | 55 | |
| HTR-04060 | 4mm | 60 | |
| HTR-04065 | 4mm | 65 | |
| HTR-04070 | 4mm | 70 | |
| HTR-04075 | 4mm | 75 | |
| HTR-04080 | 4mm | 80 | |
| HTR-04085 | 4mm | 85 | |
| HTR-04090 | 4mm | 90 | |
| HTR-04095 | 4mm | 95 | |
| HTR-04100 | 4mm | 100 | |
| HTR-04105 | 4mm | 105 | |
| HTR-04110 | 4mm | 110 | |
| HTR-04115 | 4mm | 115 | |
| HTR-04120 | 4mm | 120 | |
| HTR-04125 | 4mm | 125 | |
| HTR-04135 | 4mm | 135 | |
| HTR-04145 | 4mm | 145 | |
| HTR-04150 | 4mm | 150 | |
| HTR-04155 | 4mm | 155 | |
| HTR-04165 | 4mm | 165 | |
| HTR-04185 | 4mm | 185 | |
| HTR-04205 | 4mm | 205 | |
| HTR-05050 | 5mm | 50 | |
| HTR-05055 | 5mm | 55 | |
| HTR-05060 | 5mm | 60 | |
| HTR-05065 | 5mm | 65 | |
| HTR-05070 | 5mm | 70 | |
| HTR-05075 | 5mm | 75 | |
| HTR-05080 | 5mm | 80 | |
| HTR-05085 | 5mm | 85 | |
| HTR-05090 | 5mm | 90 | |
| HTR-05095 | 5mm | 95 | |
| HTR-05100 | 5mm | 100 | |
| HTR-05105 | 5mm | 105 | |
| HTR-05110 | 5mm | 110 | |
| HTR-05115 | 5mm | 115 | |
| HTR-05120 | 5mm | 120 | |
| HTR-05125 | 5mm | 125 | |
| HTR-05135 | 5mm | 135 | |
| HTR-05145 | 5mm | 145 | |
| HTR-05150 | 5mm | 150 | |
| HTR-05155 | 5mm | 155 | |
| HTR-05165 | 5mm | 165 | |
| HTR-05185 | 5mm | 185 | |
| HTR-05205 | 5mm | 205 | |
| HTR-06050 | 6mm | 50 | |
| HTR-06055 | 6mm | 55 | |
| HTR-06060 | 6mm | 60 | |
| HTR-06065 | 6mm | 65 | |
| HTR-06070 | 6mm | 70 | |
| HTR-06075 | 6mm | 75 | |
| HTR-06080 | 6mm | 80 | |
| HTR-06085 | 6mm | 85 | |
| HTR-06090 | 6mm | 90 | |
| HTR-06095 | 6mm | 95 | |
| HTR-06100 | 6mm | 100 | |
| HTR-06105 | 6mm | 105 | |
| HTR-06110 | 6mm | 110 | |
| HTR-06115 | 6mm | 115 | |
| HTR-06120 | 6mm | 120 | |
| HTR-06125 | 6mm | 125 | |
| HTR-06135 | 6mm | 135 | |
| HTR-06140 | 6mm | 140 | |
| HTR-06145 | 6mm | 145 | |
| HTR-06155 | 6mm | 155 | |
| HTR-06165 | 6mm | 165 | |
| HTR-06185 | 6mm | 185 | |
| HTR-06205 | 6mm | 205 | |
| HTR-08050 | 8mm | 50 | |
| HTR-08060 | 8mm | 60 | |
| HTR-08065 | 8mm | 65 | |
| HTR-08070 | 8mm | 70 | |
| HTR-08075 | 8mm | 75 | |
| HTR-08085 | 8mm | 85 | |
| HTR-08095 | 8mm | 95 | |
| HTR-08100 | 8mm | 100 | |
| HTR-08105 | 8mm | 105 | |
| HTR-08115 | 8mm | 115 | |
| HTR-08125 | 8mm | 125 | |
| HTR-08145 | 8mm | 145 | |
| HTR-08165 | 8mm | 165 | |
| HTR-08185 | 8mm | 185 | |
| HTR-08205 | 8mm | 205 | |
| HTR-10125 | 10mm | 125 | |
| HTR-12160 | 12mm | 160 | |
| HTR-3166 | 3/16 | 6'' | |
| HTR-146 | 1/4 | 6'' | |
| HTR-1412 | 1/4 | 12'' | |
| HTR-124 | 1/2 | 4'' | |