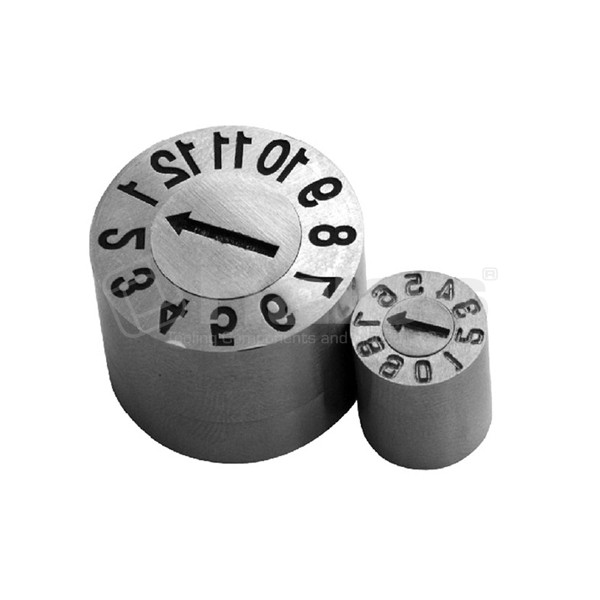 Moulding Date Inserts with springs


Date Stamps with Springs – Sets or Individual Inserts
Available in Year + Month, Month, Year, Day, Arrow, Numbers, Shift and Blank.
* CCG04 & CCG05 have numbers only.
** Inner insert dia.6 valid also for outer insert dia. 5.
*** Special date stamps with D=4mm and L=5mm and inner insert with C=2.1 available on request.
Get a Quote
| SKU | ØD | L | S | ØW | A | ØC | F | Insert Type | QTY |
| --- | --- | --- | --- | --- | --- | --- | --- | --- | --- |
| CCM04 | 4 | 8*** | 0.25 | 1.4 | - | - | - | Outer | |
| CCM05 | 5 | 8 | 0.2 | 2 | - | - | - | Outer | |
| CCM06 | 6 | 8 | 0.2 | 2 | - | - | - | Outer | |
| CCM08 | 8 | 10 | 0.25 | 3 | - | - | - | Outer | |
| CCM10 | 10 | 12 | 0.35 | 3 | - | - | - | Outer | |
| CCM12 | 12 | 14 | 0.35 | 4 | - | - | - | Outer | |
| CCM16 | 16 | 14 | 0.35 | 5 | - | - | - | Outer | |
| CCM20 | 20 | 16 | 0.35 | 5 | - | - | - | Outer | |
| CCA0420AA | 4 | 8*** | 0.25 | 1.4 | - | - | - | Outer | |
| CCA0520AA | 5 | 8 | 0.2 | 2 | - | - | - | Outer | |
| CCA0620AA | 6 | 8 | 0.2 | 2 | - | - | - | Outer | |
| CCA0820AA | 8 | 10 | 0.25 | 3 | - | - | - | Outer | |
| CCA1020AA | 10 | 12 | 0.35 | 3 | - | - | - | Outer | |
| CCA1220AA | 12 | 14 | 0.35 | 4 | - | - | - | Outer | |
| CCA1620AA | 16 | 14 | 0.35 | 5 | - | - | - | Outer | |
| CCA2020AA | 20 | 16 | 0.35 | 5 | - | - | - | Outer | |
| CCG04* | 4 | 8*** | 0.25 | 1.4 | - | - | - | Outer | |
| CCG05* | 5 | 8 | 0.2 | 2 | - | - | - | Outer | |
| CCG06 | 6 | 8 | 0.2 | 2 | - | - | - | Outer | |
| CCG08 | 8 | 10 | 0.25 | 3 | - | - | - | Outer | |
| CCG10 | 10 | 12 | 0.35 | 3 | - | - | - | Outer | |
| CCG12 | 12 | 14 | 0.35 | 4 | - | - | - | Outer | |
| CCG16 | 16 | 14 | 0.35 | 5 | - | - | - | Outer | |
| CCG20 | 20 | 16 | 0.35 | 5 | - | - | - | Outer | |
| CCN04 | 4 | 8*** | 0.25 | 1.4 | - | - | - | Outer | |
| CCN05 | 5 | 8 | 0.2 | 2 | - | - | - | Outer | |
| CCN06 | 6 | 8 | 0.2 | 2 | - | - | - | Outer | |
| CCN08 | 8 | 10 | 0.25 | 3 | - | - | - | Outer | |
| CCN10 | 10 | 12 | 0.35 | 3 | - | - | - | Outer | |
| CCN12 | 12 | 14 | 0.35 | 4 | - | - | - | Outer | |
| CCN16 | 16 | 14 | 0.35 | 5 | - | - | - | Outer | |
| CCN20 | 20 | 16 | 0.35 | 5 | - | - | - | Outer | |
| ICA0420AA | 4 | - | - | - | 2 | 2.2 | M1X0.25 | Inner | |
| ICA0620AA** | 5 | - | - | - | 2 | 3.1 | M1.6X0.2 | Inner | |
| ICA0620AA | 6 | - | - | - | 2 | 3.1 | M1.6X0.2 | Inner | |
| ICA0820AA | 8 | - | - | - | 2.5 | 4.4 | M2.3X0.25 | Inner | |
| ICA1020AA | 10 | - | - | - | 3 | 5.2 | M2.5X0.35 | Inner | |
| ICA1220AA | 12 | - | - | - | 3 | 6.2 | M3X0.35 | Inner | |
| ICA1620AA | 16 | - | - | - | 3.5 | 8.2 | M4X0.35 | Inner | |
| ICA2020AA | 20 | - | - | - | 4.5 | 11 | M4X0.35 | Inner | |
| ICN04 | 4 | - | - | - | 2 | 2.2 | M1X0.25 | Inner | |
| ICN06 | 5 | - | - | - | 2 | 3.1 | M1.6X0.2 | Inner | |
| ICN06** | 6 | - | - | - | 2 | 3.1 | M1.6X0.2 | Inner | |
| ICN08 | 8 | - | - | - | 2.5 | 4.4 | M2.3X0.25 | Inner | |
| ICN10 | 10 | - | - | - | 3 | 5.2 | M2.5X0.35 | Inner | |
| ICN12 | 12 | - | - | - | 3 | 6.2 | M3X0.35 | Inner | |
| ICN16 | 16 | - | - | - | 3.5 | 8.2 | M4X0.35 | Inner | |
| ICN20 | 20 | - | - | - | 4.5 | 11 | M4X0.35 | Inner | |