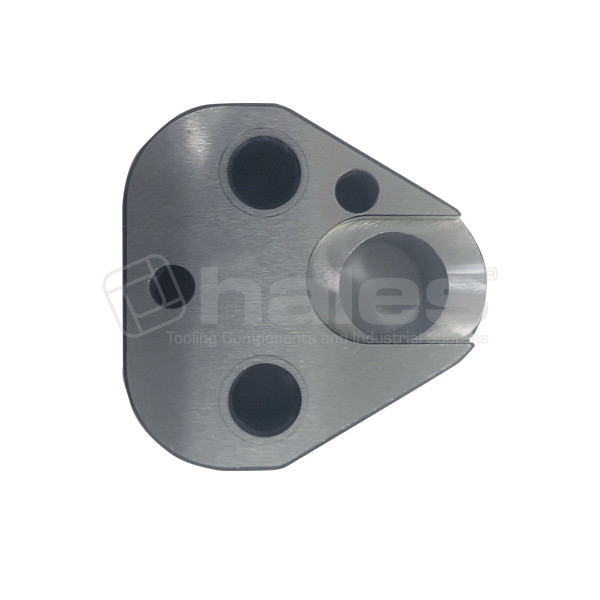 Peerless Retainer Shoulder Form
Retainer Set Includes:
2 Socket head cap screws.
2 Vented and tapped dowels

The Fastest, Least Expensive Way to Mount Shaped and Form-Pointed Punches.
A standard K2 key flat orients the shape inside the retainer.
Just place two round dowel holes in your die shoe, and you are ready to locate complex shaped punches.
Dowels are finished, and dowel holes are slip -fit sized. Retainer is ready for CNC mounting.
Get a Quote
| SKU | D | L | A | W | B | S | C | E | X | Y | F | QTY |
| --- | --- | --- | --- | --- | --- | --- | --- | --- | --- | --- | --- | --- |
| PRSF10 | 10 | 43.5 | 26.92 | 41.00 | 5.00 | 34.00 | 19.05 | 11.12 | 7.5 | 9 | M8 | |
| PRSF13 | 13 | 49.6 | 29.97 | 48.50 | 6.50 | 37.00 | 19.05 | 14.27 | 6.5 | 12 | M8 | |
| PRSF16 | 16 | 52.7 | 31.75 | 51.70 | 8.00 | 38.60 | 19.05 | 15.87 | 6 | 13.5 | M8 | |
| PRSF20 | 20 | 59.3 | 33.53 | 56.80 | 10.00 | 41.90 | 19.05 | 17.47 | 5 | 16.5 | M10 | |
| PRSF25 | 25 | 68.9 | 40.64 | 64.50 | 12.50 | 46.70 | 23.82 | 19.84 | 7 | 22 | M12 | |
| PRSF32 | 32 | 68.9 | 40.64 | 64.50 | 16.00 | 46.70 | 23.82 | 19.84 | 7 | 22 | M12 | |